Site Highlights:
XML/RSS Feed
Content update action
Site Search
Powered by Google
News Archives
Organized by month
Latest Schnazz
Newly-found links
FCC Watch
-Enforcement Database
-FCC Features
Media Collage
-Truthful Translations
-Celebrity Speech
-Consumer Collage
A/V Library
-Featured MP3s
-Misc. Goodness
Features Index
-Digital Radio Articles
-Microradio in the U.S.
-General Pirate Radio
-LPFM Archives
Links Directory
1,000s and growing!
Mbanna Kantako
-News/Commentary
-Music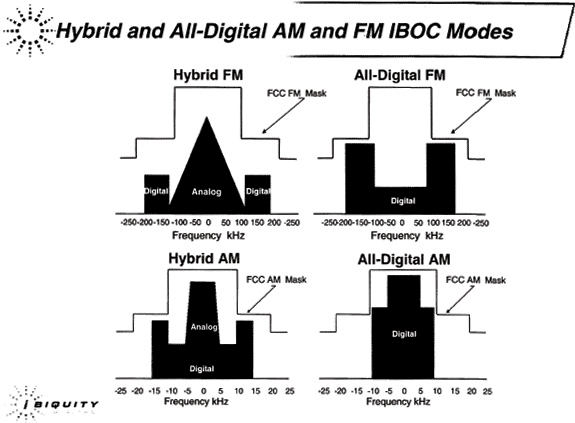 From iBiquity Digital Corporation PowerPoint presentation made to senior FCC officials, October 3 and 4, 2001.
This is a graphical representaton of the bandwidth utilized by HD Radio stations.
Analog AM stations occupy 10 kilohertz (kHz) of bandwidth; analog FM stations occupy 200 kHz.
This iBiquity diagram clearly shows that hybrid and all-digital FM signals occupy approximately 400 kHz - double the spectrum of an analog signal.
On AM, the hybrid analog/digital mode occupies 30 kHz - three times the spectrum of an analog signal. iBiquity proposes to "shrink" all-digital AM signals to 20 kHz, which still represent twice the spread of analog bandwidth use.
Back to "Public Broadcasters Seek Digital Interference Study"