Site Highlights:
XML/RSS Feed
Content update action
Site Search
Powered by Google
News Archives
Organized by month
Latest Schnazz
Newly-found links
FCC Watch
-Enforcement Database
-FCC Features
Media Collage
-Truthful Translations
-Celebrity Speech
-Consumer Collage
A/V Library
-Featured MP3s
-Misc. Goodness
Features Index
-Digital Radio Articles
-Microradio in the U.S.
-General Pirate Radio
-LPFM Archives
Links Directory
1,000s and growing!
Mbanna Kantako
-News/Commentary
-Music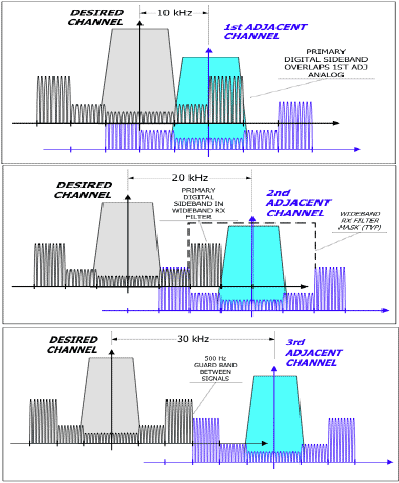 From National Radio Systems Committee, DAB Subcommittee, "Evaluation of the iBiquity Digital Corporation IBOC System, Part 2 - AM IBOC," April 6, 2002, p. 16-17.
AM IBOC interference scenarios between stations located on first (upper), second (middle), and third (lower) adjacent channels from each other.
Note that although an analog AM signal (center solid block) occupies 10 kHz of bandwidth, a hybrid AM IBOC signal (solid block plus hatch-marked area) occupies three times the spectrum.
HD Radio interference on the AM band has been described as sounding like "hash," a "frying bacon effect," and an "audible buzz."
Back to "Public Broadcasters Seek Digital Interference Study"