Site Highlights:
XML/RSS Feed
Content update action
Site Search
Powered by Google
News Archives
Organized by month
Latest Schnazz
Newly-found links
FCC Watch
-Enforcement Database
-FCC Features
Media Collage
-Truthful Translations
-Celebrity Speech
-Consumer Collage
A/V Library
-Featured MP3s
-Misc. Goodness
Features Index
-Digital Radio Articles
-Microradio in the U.S.
-General Pirate Radio
-LPFM Archives
Links Directory
1,000s and growing!
Mbanna Kantako
-News/Commentary
-Music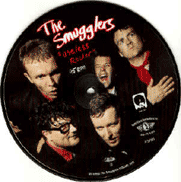 Download Now - 3.1 MB, 3:17 (MP3)
From Mutiny in Stereo
Sing Along: lyrics here!
Official web site: Thesmugglers.com
The Smugglers have been rocking out Vancouver-style since 1988.
This was the first track off Mutiny, released in 2004. Lookout Records calls the song "a metaphor for the insurgent survival of rock 'n' roll." I just like it because it says nice things about the offshore pirates of yore.