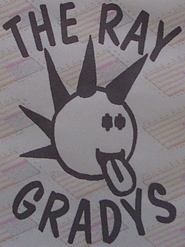 2002 Version - 2.3 MB, 2:26 (mp3)


1999 Version - 2.4 MB, 2:32 (mp3)
2002 Version from We Don't Need Your Labels
1999 Version from 40 Hour Slave EP
Official web site: Raygradys.com
Raw punk from Philadelphia with attitude. What more do you want? "Pirate Radio" is a nugget of golden angst.
The Ray Gradys have released several albums and E.P.s. At their home page you can find oodles of their songs.
The Ray Gradys try to get out on the road whenver possible - it's all part of the DIY spirit. Visit this page to find out if you're going to be lucky enough to hear the song in the flesh!