Site Highlights:
XML/RSS Feed
Content update action
Site Search
Powered by Google
News Archives
Organized by month
Latest Schnazz
Newly-found links
FCC Watch
-Enforcement Database
-FCC Features
Media Collage
-Truthful Translations
-Celebrity Speech
-Consumer Collage
A/V Library
-Featured MP3s
-Misc. Goodness
Features Index
-Digital Radio Articles
-Microradio in the U.S.
-General Pirate Radio
-LPFM Archives
Links Directory
1,000s and growing!
Mbanna Kantako
-News/Commentary
-Music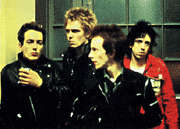 Download Now - 3.9 MB, 4:09 (MP3)
From The Singles
Sing along - lyrics here!
Official web site: Westwaytotheworld.com
Can't say much about these punk rock icons that hasn't already been said. "This Is Radio Clash" was originally released as a 7" single in 1981...yet it still resonates in the contemporary cultural/political environment we live in.