Site Highlights:
XML/RSS Feed
Content update action
Site Search
Powered by Google
News Archives
Organized by month
Latest Schnazz
Newly-found links
FCC Watch
-Enforcement Database
-FCC Features
Media Collage
-Truthful Translations
-Celebrity Speech
-Consumer Collage
A/V Library
-Featured MP3s
-Misc. Goodness
Features Index
-Digital Radio Articles
-Microradio in the U.S.
-General Pirate Radio
-LPFM Archives
Links Directory
1,000s and growing!
Mbanna Kantako
-News/Commentary
-Music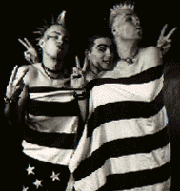 Download Now - 3.8 MB, 4:03 (MP3)
From Underground Network
Sing along: lyrics here!
Official web site: Anti-flag.com
These Pittsburgh-based punks resemble Propaghandi in their politics, although you might consider them a bit more radio-friendly.
"Underground Network" was the title track to their 2001 debut on Fat Wreck Chords; Anti-Flag paints a pretty stark picture of the state of the media. This song is a straight-up call to action, and early on it mentions pirate radio as one of the ways of standing up to the corporate media and speaking truth to power.
Anti-Flag is also one of the featured artists on the Rock Against Bush album series (vol. 1).