Site Highlights:
XML/RSS Feed
Content update action
Site Search
Powered by Google
News Archives
Organized by month
Latest Schnazz
Newly-found links
FCC Watch
-Enforcement Database
-FCC Features
Media Collage
-Truthful Translations
-Celebrity Speech
-Consumer Collage
A/V Library
-Featured MP3s
-Misc. Goodness
Features Index
-Digital Radio Articles
-Microradio in the U.S.
-General Pirate Radio
-LPFM Archives
Links Directory
1,000s and growing!
Mbanna Kantako
-News/Commentary
-Music
Note: Images are clickable and will open a context-related clip from the documentary (Quicktime required).
Making Waves (2004) is the second feature-length documentary from Jump Cut Films, the outlet of Michael Lahey. Central to the film are profiles of three microradio stations sharing the airwaves of Tucson, Arizona. Lahey manages to weave these separate stories into an overall narrative about the modern microradio movement, using the Reverend Rick Strawcutter as a tie-in to the national scene.
Infused throughout are some slick animation mini-scenes, representing what is probably the best effort to-date to simplify the technical controversies that have plagued microradio before (but especially since) the genesis of a legal LPFM service. The icing on the cake, however, is that this snapshot of pirate radio in Tucson is also honest about the diversity of microbroadcasting, sometimes brutally so.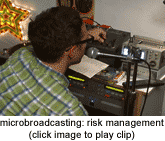 In all, it's a very ambitious 64 minutes. DIYmedia had a chance to interview Michael Lahey via e-mail about the documentary, and his quotes are sprinkled throughout the following review.
Genesis (next page) --> 1, 2, 3, 4