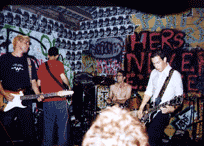 Download Now - 2:16, 2.1 MB (MP3)
From For Snakes
Official web site: www.newdisorder.com/disorder/tghk/
A general indictment of the media and the corporatization of culture, with a small nod to the pirates that no longer exist. This version was performed live on KZSU. Smart, cynical, and they toured in a van named the "S.S. Poo," so you must love them!
Lyrics below:
Let's sing an ode to commercial radio spin the dial, see what you get
A medium dead for 25 years, so why hasn't anyone noticed yet
50,000 watts of bull shit, 50,000 watts of greed
Too obsessed with selling ads to give the public what it needs.
An independent voice is done, one more battle that money's won
The pirate stations keep shutting down, one more battle that money's won
Corporate control and private funds, one more battle that money's won
8-6-5-4-3-2-1, once was good but now it's gone
Media sex-worker media sex-worker, let's sing an ode to the media sex-worker
Whose hype intoxication serves to make his writing such a bore
We want the stuff about local weirdos, art experiments, clowns and freaks
All you cover is green day, rancid, phish, oasis, flavor of the week.
The radio's our ears, there's nothing to hear
The tv's our eyes, there's nothing to see
The paper's our voice, there's nothing to say
Blind deaf and dumb, we've wasted another day
You have the power, why don't you use it? tell us about something new
But the P.R. guy from polygram-seagram-nike has ideas for you
You don't give a fuck about the music, you just want to sell and sell
It might as well be kitchen sinks, you're in their pocket so well.